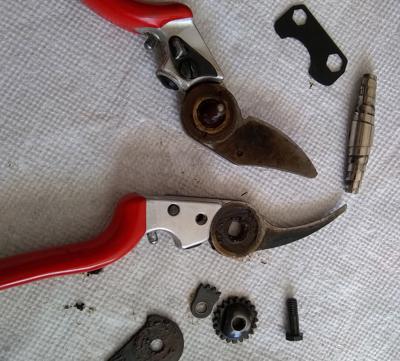 What to do? The world is either covered in snow and ice or sopping wet, and you can't get to your garden. However will you survive? Well, don't despair. There are plenty of garden-related tasks you still can do to be ready when spring finally hits.
By the time I get through a season, pots and tools are tossed everywhere, and no one can find anything.
My biggest mess is usually my pots. So, I start there. I do save my old soil — a major no-no; it can spread diseases — but I dump all the soil into a big trash can and lightly brush out the pots. Dead plant material lands on the compost pile. Then the pots are stacked and organized according to size and purpose. Anything broken is either trashed or put in storage tubs for future projects.
Then I go over all my tools. Take apart anything that comes apart and clean it thoroughly, especially in all the cracks and crevices. Any broken parts are replaced and all the shovels, hoes, loppers, pruners and knives are sharpened. Tighten screws and bolts on wheelbarrows and sprayers. Make sure rubber items are not eaten up with dry rot. I replace all wheels on my garden tools with "airless" versions so I never have to worry about flats.
Next, use sandpaper to rub down wooden handles to remove splinters and metal parts to remove any rust. Then, oil the metal with used motor oil and soak wood pieces with tung oil. Or you might paint the wood instead.
I find that my tools get "borrowed" and often don't find their way back to the shed. I collect everything I find in the field and hold it for ransom when the owner comes looking. And although I would never admit this to the culprit, I might be guilty of leaving a shovel in the garden and another one by each door of the house. But I now paint everything yellow, red or blaze orange to make them easier to find when they are lying on the ground or on top of a stump, hanging on the trellis wire, sitting on a fence post — well, you get the gist. Ours are also color-coded according to ownership, so I know whose tools are being left about.
Since there are several folks using our tools, it is also a must to have a specific spot for everything to live. There is a hanger on the wall for each and every tool we have, and the tool is outlined on the wall behind the hanger. Thus, it is obvious when something hasn't been returned. It makes it far easier to find the missing item or replace it if the original has not been found. We also have two hooks for extra chainsaw chains — one for those that need sharpening and another for after sharpening. And rainy days find someone on sharpening duty.
Once pots and tools are in order, I check over my leftover seeds to make sure they are rodent free. They should have been put in airtight, rodent-proof containers and put in refrigeration as soon as I finished planting. But we'll be honest. Usually the tub is still sitting open on the potting table right where I left it in September.
Necessary seeds for the coming season are ordered by January. Then, when they arrive, all my seeds are stored in separate tubs according to whether they are to be planted in spring, summer or fall, with an additional smaller box in each for seeds that need to be pre-planted and grown inside before being set out in the garden. That way, come planting time, I don't have to haul everything out — just the box for that season. I also go ahead and make the garden signs for each variety and include those in each box. Thus, they are there ready to go when I plant the seeds. I hate having to come back later; there is no way I can remember what went where.
Now is also the time that I go over the small items. Labels are cleaned and bleached for re-use. I check and refill the supplies of label tape, markers, twine, electrical tape and anything else I might need for plants through the summer. These also all live in labeled spots so they are easy to find when needed. I don't want to have to take the time to go purchase supplies in the summer.
Same goes for the chemicals. My chemicals live on their own specific shelves in the building — fertilizers on one, herbicides on another, fungicides and insecticides on additional shelves. I use almost all organic, but there are few things that are not. Those live on a fourth shelf so there is less chance of someone grabbing the wrong thing by mistake.
Each shelf is labeled as to what type of product lives there. I also label every bottle with the name of the product and the rate of mix that I use. I clean up any spills and drips, and also wash measuring cups and spoons. Then I update a list of all the products and the mix rates on a separate sheet, which is posted on the wall. I also have a separate copy in my office and on my phone in case of emergencies.
Once things are back in order, I'm ready to face a new growing season. I hate to come out ready to work on the first warm day and find the tool I need is broken or missing.
Spending a bit of time now really helps increase the life of the tools. And being organized really helps to cut down on the panic when we are crazy busy.
["source=dailyprogress"]